Charger Total Connect
Future-proof your dealership & dramatically decrease unnecessary service calls with Charger's Total Connect Wireless Monitoring Device
Meet your new 24/7 on-call service tech – minus the scheduling, driving, gas, man hours, and headaches. Charger's Total Connect is a wireless equipment monitoring device that gives you real-time access to your customers' equipment performance. You can assess and even address changes without sending a tech, providing a simple way to improve your customer experience & your bottom line.
Eliminate unnecessary service calls and improper diagnostics with one simple app.
One of the most common service requests dealers encounter is from a customer who is unsure if their system is working properly. With the Total Connect wireless monitoring system, two-way communication allows both the customer and the dealer to know exactly how the equipment works, to what efficiency, and, if there are issues, indications of what's occurring.
Save money on unnecessary service calls
Improve your customer service and experience
Use impartial data to diagnose system performance
Ensure systems are running at peak efficiency
How Can We Help?
Please complete the form below and a local representative will be in touch shortly.

This is literally the best product in the market. It's very easy to use and has really saved my company time and money and organized my workers in a very efficient way.
Charger's Total Connect Wireless Monitoring Technology
Discover Charger's Industry-Leading Wireless Monitoring App
Charger's Total Connect wireless device ties into multiple types of point of entry and point of use water treatment systems so you can enjoy a single app that consolidates your monitoring. Many consumers have very little information about their municipal or well water supply, making this connected device a window into what's happening as the water enters their homes.
Proven, Field-Tested Technology
Charger's Total Connect app and wireless technology have been rigorously field-tested to ensure seamless compatibility and communication. Based on user feedback from consumers and dealers, we've tailored this system to compete with and surpass the best in the marketplace.
Embedded CRM (Customer Relationship Management)
Directly attach data and performance statistics from connected devices to an easy-to-use CRM. No longer will you need to manually pull data off a hub and add it to your database, this unique app automates this process saving you time and money.
Retrofittable to Nearly Any Water Treatment System
Many competitive wireless monitoring devices require a device and app for each system, causing you to have to purchase multiple devices and download a host of software. Our Total Connect system works through a daughterboard that can be applied to nearly any valve to connect all your water treatment equipment through one convenient system.
Solve Unnecessary Service Calls Once and For All
Experts have found nearly 80% of issues that occur with equipment can be traced back to programming errors. Now, with a few simple pieces of information, most of these problems can be identified, resolved, and even prevented.
Leak Detection
Enjoy a simple leak detection system that alerts you if there's a water leak to save you money on costly repairs.
TDS Monitoring
Measuring Total Dissolved Solids can help identify changes in water quality and communicate with consumers and dealers when it's time for routine maintenance to keep their system running at peak efficiency.
Timers
Timers can trigger alerts in the app when it's time for filter changes or routine maintenance.
Water Flow Meters
Measure flow rates pre and post-equipment. Measuring before the equipment can help diagnose system changes. Measuring after the equipment can help inform the consumer and the dealer when it's time for filter changes or maintenance.
Salt Monitoring
Proactive salt monitoring keeps track of salt levels and notifies you when it's running low.
Testimonial on White
"Nulla ac urna consectetur lacus faucibus porta ut sit amet sapien. Praesent at eleifend tellus."
Wholesale Water Softeners & Treatments
Why Professionals Choose Charger
Work with a full-service provider of water quality solutions.
Get the job done right by becoming a Charger dealer. We offer the highest-quality water treatment solutions — so your customers experience better water quality in residential and commercial environments.
Custom Assembly
Relying on American manufacturing, our experts help you determine the right water treatment solution and build custom water softening products to your exact specifications.
Regional Expertise
As a regional OEM with distribution centers across the U.S., our experts know the common water quality issues found in each location and work together to find solutions to any issue.
Proven Products
Our water softening products and solutions have been tested in the field over 100,000 times. Our products do the job of softening water and treating quality issues — and helping you satisfy your customers.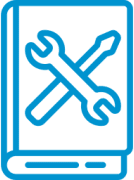 Full Service & Support
As a Charger dealer, you'll have access to our expert team and services. We'll test your customers' water, make recommendations, build your solutions, and make sure you have everything you need to get your job done right.
Find Your Nearest Distribution Center
With regional OEM and distribution centers across the U.S., you'll have easy access to local experts ready to help build, test, and deliver water treatment supplies.
Put Cleaner, Safer Water First with a Leading Water Treatment Supplier
Let's protect water quality together.
Contact Us