Scale Control Systems
Remove existing scale and prevent future buildup with an all-natural solution to hard water problems.
The Anti-Scale Water System that Works to Reduce Hard Water Deposits
Hard water build-up sticks to your pipes, water-using appliances, faucets, fixtures, and can even shorten the life of your water heater. 
This causes your home to use more energy to heat your water, and it causes you to use more cleaning chemicals to keep your home spot-free.
The Charger Scale Prep water filter helps prevent scaling so your home can stay cleaner and your expensive appliances can last longer. This system also helps dissolve existing scale buildup!
How Can We Help?
Please complete the form below and a local representative will be in touch shortly.

Scale Control Systems
Scale Reduction Options from Charger Water
Many factors play a role in the type of water treatment system you choose. Water quality can vary from home to home as can preferences on how to treat water. Government regulations are constantly changing and adapting to market and environmental demands. This is why Charger provides options so that you can get the right system to fit a variety of factors.
Charger's Water Softeners
The "classic" water softening unit operates on the basis of ion exchange; exchanging calcium and magnesium ions in the water for sodium ions. When a water softener is used, the result is not only soft water, but also increased sodium content in the water supply.
Charger's Scale Prep System with SP3 Media
The technologically advanced Scale Prep SP3 Media is an innovative solution that prevents all of the negative effects of calcium and magnesium, while allowing the positive health benefits to remain.
Don't see what you need?
We'll build to your specifications. Reach out to talk to a water quality expert.
Protect Your Home and Prolong the Life of Your Appliances without the use of Salt or Harsh Chemicals
Traditional water treatment systems require ongoing maintenance and salt refills. Lifting heavy bags can be tough for many people and regenerating with gallons of water add extra cost to owning a softener system. Charger's Scale Prep system allows you to enjoy many of the benefits of soft water without the headache.
Preserve Beneficial Minerals
Because the Scale Prep system does not use ion-exchange to completely remove the calcium and magnesium from your water, these good minerals are left in for drinking and cooking.
Virtually No Maintenance
With no filter changes, salt additions, or adjustments, the Scale Prep system from Charger is as easy as they come.
Chemical and Salt-Free
No added chemicals or salt means ease-of-use and a healthier home.
Saves on Soap & Energy
You will enjoy soap and energy savings when you reduce scale buildup throughout your home.
"They know well-founded water treatment principles and applications. Josh and Todd are like rock stars in the water treatment business."
Wholesale Water Softeners & Treatments
Why Professionals Choose Charger
Work with a full-service provider of water quality solutions.
Get the job done right by becoming a Charger dealer. We offer the highest-quality water treatment solutions — so your customers experience better water quality in residential and commercial environments.
Custom Assembly
Relying on American manufacturing, our experts help you determine the right water treatment solution and build custom water softener products to your exact specifications.
Regional Expertise
As a regional OEM with distribution centers across the U.S., our experts know the common water quality issues found in each location and work together to find solutions to any issue.
Proven Products
Our water softening products and solutions have been tested in the field over 100,000 times. Our products do the job of softening water and treating quality issues — and helping you satisfy your customers.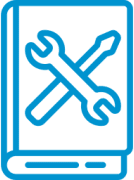 Full Service & Support
As a Charger dealer, you'll have access to our expert team and services. We'll test your customers' water, make recommendations, build your solutions, and make sure you have everything you need to get your job done right.
Charger's Scale Prep System is a more simple, convenient, effective, and healthier way to Protect Your Home
Remove existing scale and prevent future buildup with an all-natural solution to hard water problems.
Organizations like the National Research Council have found that the hard water minerals, calcium & magnesium, can be good for your health. The Scale Prep system leaves these minerals in your water for drinking and cooking benefits.
How does the Anti-Scale System from Charger Work?
Scale Prep's SP3 Anti-Scale Media was specially developed and manufactured to protect against the formation of scale and remove already existing scale from pipes and heat exchange surfaces.
The Scale Prep's SP3 catalytic media prevents the formation of scale and eliminates existing scale by accelerating the transformation of the calcium and magnesium minerals into harmless "Nano" particles. As the nano particles flow through plumbing systems, they do not attach to pipes, fixtures, valves, or heating elements; the result is 99% scale prevention and removal!
Scale Prep's SP3 is successfully used in a number of applications for both residential and commercial usage. Virtually maintenance-free, chemical-free, and salt-free, Scale Prep's SP3 media water conditioners are a cost-effective alternative where benefits and overall performance surpasses our competitors.
What are the Requirements to Install the Charger Scale Prep System?
The Scale Prep System must be the last form of water treatment equipment installed with the exception of an RO unit or POU filter.
Recommended to use a carbon pre-filter for municipal applications (carbon pre-filters reduces the negative effects of high chlorine on the media and lowest levels of iron .4ppm. Note: You must change out your carbon filter to keep proper flow rates).
Recommended that you soak the media for 60-120 minutes before start up. This assures that the media is saturated with water and will not accumulate at the top of the housing when filled with water.
Do not apply phosphates or any other anti-scalents either before or after the Scale Prep System.
Scale Prep Systems are only partly filled with media; systems must have an adequate freeboard.
Scale Prep Systems must use a Spider Flexible Hub and Lateral to ensure proper fluidization. (For larger tanks, use a hub and lateral with a garnet underbed.)
Scale Prep System operates in the UPFLOW mode ONLY!!!! The tank connections are normally opposite from the standard down flow configuration.
Recommended to use a flow restrictor that is sized to the proper tank and water flow.
Find Your Nearest Charger Distribution Center
With regional OEM and distribution centers across the U.S., you'll have easy access to local experts ready to help build, test, and deliver water treatment equipment.
Get Started with a Free Home or Water Well Test
Find out what's in your water and how to fix it.
During your free water test and plumbing & installation inspection, a local, professional Charger dealer will test your water quality so you know what's in your water.  Here's what you can expect:
They will perform tests to measure calcium, magnesium, iron, hydrogen sulfide, and acidity
Assess results through an independent laboratory for contaminants of all variances, if necessary
Perform visual inspection of hardware, including plumbing, fixtures, and appliances
Determine water demand and requirements, comparing to water utility bill cu/ft data
Provide options for water treatment solutions that will fix your water quality issues and fit your home's plumbing and your family's water usage
Ready to find out exactly what's in your water?